Texte sur bandeau
sur bandeau ligne 2
STRAINS is an Erasmus Mundus Joint Master Degree (EMJMD) co-funded by the Erasmus+ programme of the European Union. It is a prestigious, integrated, international study programme, jointly delivered by an international consortium of six higher education institutions across Europe.
The map shows the location of each university with the University of Lille as the coordinating institution of the Consortium.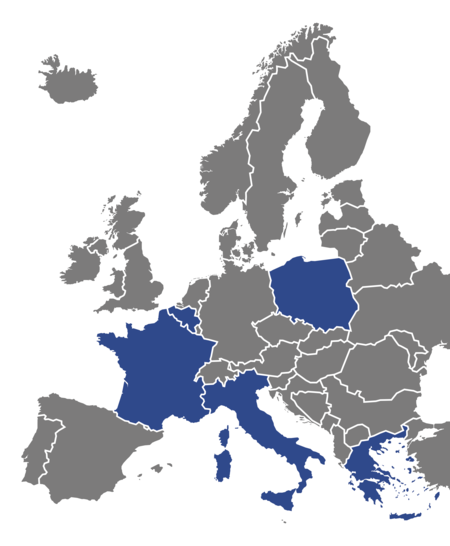 The six different institutions capitalising on their existing collaborations have decided to join forces and offer the first joint Master programme in advanced solid mechanics (STRAINS) to address the need for highly qualified training in the growing field of solid mechanics. The Master's focuses on the fundamentals of the discipline and the methods, either theoretical, experimental or computational to deliver a strong identity on research and innovation activities combined with globalization, diversification and facilitation.
Université de Lille (France)
Centrale Lille Institut (France)
Université Catholique de Louvain (Belgium)
Wrocław University of Science and Technology (Poland)
National Technical University of Athens (Greece)
Università della Calabria (Italy)
The highly complementary expertise and professional experience from each partner are designed to develop a global vision in the field of solid mechanics with extensive knowledge on advanced solid mechanics together with inter-disciplinary skills on the financial, legal, environmental and bioeconomic aspects related to energy management.
Besides, they have strong links with professionals with both public and private actors from countries inside and outside the EU. STRAINS can also count on institutional partners who help to develop the solid mechanics industry in their region.